Having a good handle on your numbers is an important aspect of running a successful business. It is not good enough to simply monitor your bank balance or only focus on whether you're making a profit. Good reporting involves various reporting views, with the most common reports being a Profit and Loss, Balance Sheet and Cash Flow Statement. Good business owners use their reporting as a tool for making better decisions and tracking the impact of their decisions. Financial reporting is used by multiple stakeholders, including financial institutions, shareholders, potential investors and government institutions.
In this blog, we will unpack some of the key questions that business owners struggle with when it comes to Annual Financial Statements.
What are Annual Financial Statements?
Annual Financial Statements are a set of financial reports prepared in accordance with a common accounting framework that primarily consist of:
Statements of Financial Position (Balance Sheet)
Statements of Financial Performance (Profit and Loss)
Statements of Changes in Equity
Statements of Cash Flows
Accounting Policies and other Explanatory Notes
Is it a requirement to prepare Annual Financial Statements?
Yes, the Companies Act of South Africa states that each company must prepare a set of financial statements annually within six months after the end of your financial year.
Once created, they'll need to be approved by the board, signed by an authorised director and then presented at the first shareholders meeting after the statements have been approved by the board.
Anyone with beneficial ownership in the company should be provided with a set of the Annual Financial Statements upon request.
Do your annual financial statements require an audit, independent review or compilation?
Section 30(2) of The Companies Act lays out the criteria for determining whether your company requires an audit, independent review or compilation.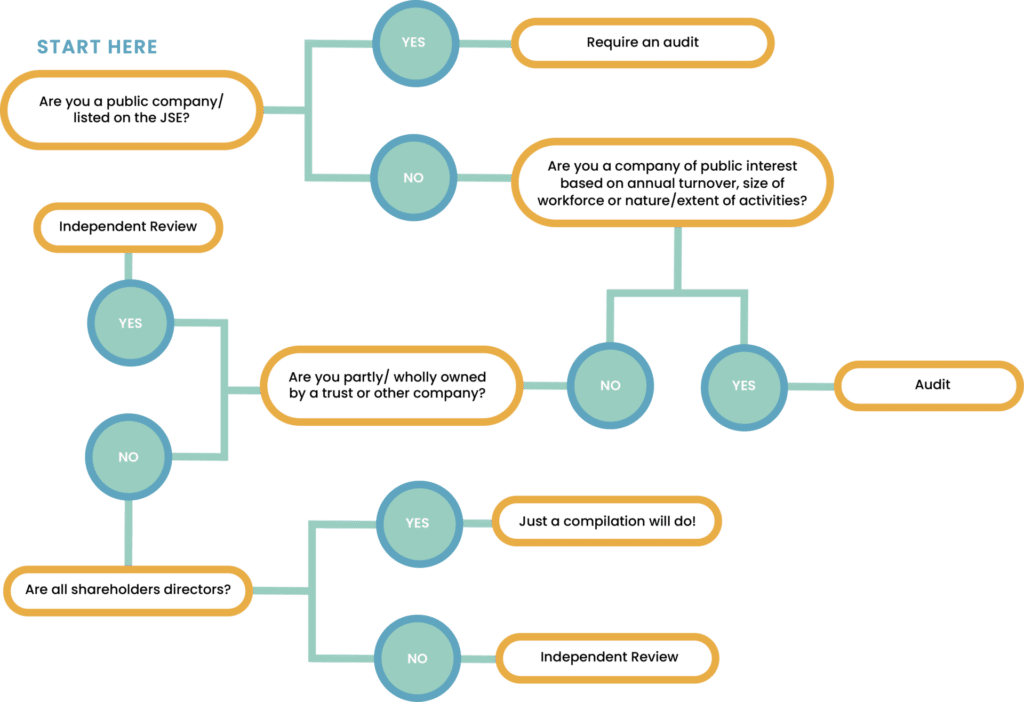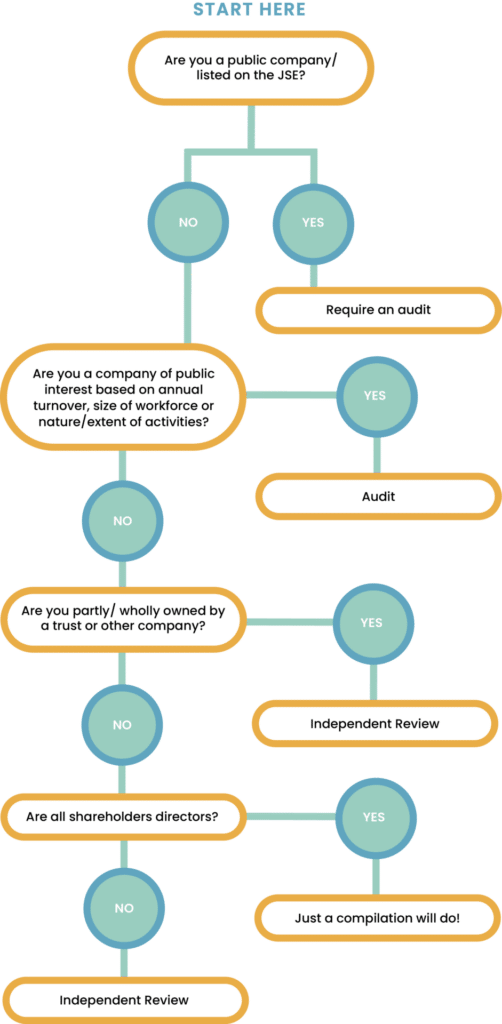 Have more questions about Annual Financial Statements? Feel free to reach out to us to chat more about your unique circumstances and we'll see if we can help!